Food bowl and bird bath
As one of the first manufacturers of feed bowls and bird baths of this kind, we are one of the most experienced pioneers in our field. Our products are handmade and consist exclusively of high quality materials. For example, the aluminum profiles used are not mill-finished, as they are used by most other manufacturers, but are anodized and therefore have a particularly elegant surface.
Your advantages:
High quality surface:
Most feeder and bird bath manufacturers of this type use mill-finished aluminum. It is not treated any further after molding, which is why it has no surface coating and therefore a natural appearance. Press-bright aluminum can be recognized by its typically silver-gray appearance, which has extrusion stripes on the surface due to the manufacturing process.
The aluminum profiles we use are anodized. Due to the anodization, the profiles look much more valuable and noble than mill-finished aluminum. Anodizing is an electrolytic oxidation. A controlled protective layer is created here. While the protective layer is applied to the workpiece in electroplating processes, the uppermost metal layer is converted during anodizing, creating a protective layer about 25 micrometers thick, which protects even the deeper layers of the metal from corrosion. In contrast to other finishing processes, no foreign material is used in anodising. Therefore, the metallic character of the material is retained.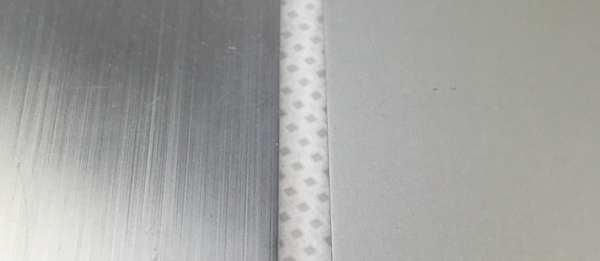 left: mill finish, right: anodized
Maintaining health:
Ordinary square tubes made of aluminum, which are used by most other manufacturers, have hard edges. This stresses the bird's feet unnecessarily. The profiles we use, on the other hand, have an edge radius of 2 millimeters. The bird's feet are protected by the edge radius, which is very good for the health of the animal.
High stability:
Many manufacturers of similar bird baths and feeding bowls use conventional, mill-finished aluminum profiles with an external dimension of 20 x 20 millimeters and a wall thickness of 1.0 millimeters. With us, on the other hand, you get much more stable profiles with an outer dimension of 25 x 25 millimeters and a wall thickness of 1.5 millimeters, which significantly increases the stability. In addition, our profiles have special grooves on the inside, which further increases stability.
High quality:
The food and water containers used in our feeding bowls and bathtubs are made of stainless steel. The connectors are made of highly stable, impact-resistant and glass fiber reinforced polyamide 6 and are cold-resistant down to at least -30 ° C and permanently heat-resistant up to + 105 ° C. This means that our feed bars and bird baths are not only suitable for indoor use, but can also be used in outdoor aviaries without hesitation - even in winter!
---
---
More sub categories: